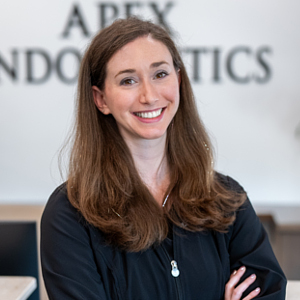 Dr. Mariel Webber is an endodontist dedicated to helping patients of all ages to save their teeth and maintain a healthy smile. Dr. Webber joined our office in 2023 and has been working locally in the Buffalo area for over four years. She found a home here with our doctors due to her passion to do what's best for patients, using the latest technology and treating them in a comfortable environment. Dr. Webber loves root canals and really enjoys how our doctors share an office and can collaborate on cases.
Dr. Webber had an impressive educational background. She was admitted to the University at Buffalo's dental school at the age of 17 as part of a combined degree program with SUNY Geneseo where she graduated with a Bachelor of Science degree in Biology. After graduating dental school, Dr. Webber completed her general practice residency at North Shore-LIJ Hospitals—now known as Northwell Health, where she served as chief resident for an additional year prior to returning to UB for her endodontic certification. During the first year of her residency, Dr. Webber won first place at the annual American Association of Endodontics meeting's Resident Award for her table clinic presentation and went on to win third place for her oral presentation on her research at the following year's meeting. She is published in the Journal of Endodontics for this research as well. Dr. Webber now teaches as an associate clinical professor at UB Dental School.
Dr. Webber and her husband love to travel, especially to her husband's homeland of Brazil. In her spare time, Dr. Webber enjoys learning Portuguese, hiking, cooking, and caring for her rescue cat and dog- Freya and Pepper.
Professional Memberships